Enjoy the benefits of certified Ford service near your local area at the Vermillion Ford Inc. service center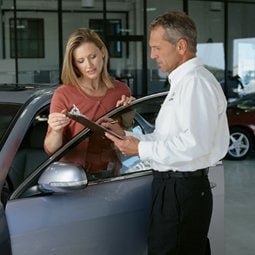 If you're anything like us, you love the feeling of driving a new car, and you want your car to feel like new for years and years to come. Fortunately, one of the best ways to ensure that, and avoid costly repairs in the future is to keep up with your Ford manufacturer-recommended maintenance. And with years of Ford service expertise under our belts here at Vermillion Ford Inc., there's no one better equipped to serve your car care needs than we are.
What sort of auto service is offered at Vermillion Ford Inc.?
At our Ford service center near your local area, we happily carry out routine maintenance like multi-point inspections, tire rotations, and yes, even oil changes on a daily basis. That said, if you're in a bind and need some more intensive repairs on your brakes, exhaust, ignition, or anything else that might be causing you trouble with your car, our certified Ford technicians are always there to help. What's more, we're a great resource for aid with any outstanding Ford recalls or warranty related service, so don't hesitate to get in touch with us in any event.
Schedule Your Ford Service in Vermillion Today
Keeping up with routine service appointments means the world to your Ford model, and our team at Vermillion Ford Inc. wants to ensure the longevity of your vehicle. The difference that we make for your crossover, SUV or truck over an independent shop is that we have the training to work on your specific model, plus we use only OEM-approved parts for the best fit for your car.